Essential Businesses in Polk County
As we're all figuring out how to get accustomed to the stay-at-home order that began at 12:01 p.m. this morning, many people are wondering what constitutes an essential business in Florida, and what does not. Conveniently, the Polk County government has made a useful flier that should clear things up (the guidelines are the same across the state, including in Polk County). According to the executive order signed by Governor Ron DeSantis, the following businesses are listed as essential: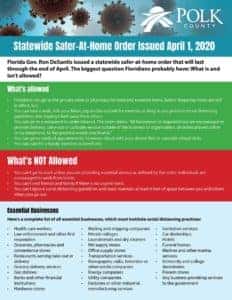 Of course, many of the businesses that are deemed essential are taking many extra precautions. As a car dealership, we've been deemed essential so that other essential businesses and personnel can get back and forth as needed. As an automotive group that's taking this seriously, we've added extra precautions to ensure social distancing, and increased cleaning.
For example, we've revved up our mobile service unit so that many service procedures can now be done without you ever having to leave your house. If the service might take a while and you have essential errands to run, we can bring you a loaner that has been completely sanitized using Permasafe Protective Coatings. If you do need to come to the dealership for service, we're taking extra precautions to keep you safe as you wait, and when you leave in your serviced vehicle.
What's more is that customers who need to purchase a vehicle during April have multiple ways that they can do that safely. We're offering a "No Contact Purchase Program" to allow our Central Florida and Chiefland customers access to our home delivery option, which includes virtual test drives, a secure online credit application, and free home delivery (this option has and continues to be available in all other parts of Florida). You can still even come to the dealership, although appointments will be staggered to ensure that every can safely maintain a 6 foot distance.
As we all wait out the month of April, we hope this helps clear up what's considered an essential business and what's not, and we hope you and your family stay safe. As always, the Kelley Automotive Group is here for you!