The 2020 GMC SUV Lineup in Polk County, FL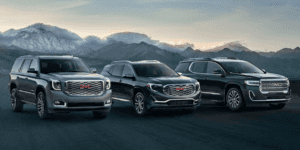 You've seen GMC SUVs on the highway, and maybe you've even done a double-take when you saw them. They're gorgeous, for sure. What else do they offer? Kelley Automotive is here to break down the full GMC SUV lineup.
From Lakeland to Brandon and beyond, Kelley Automotive Group offers an extensive selection of GMC SUVs our dealerships and will work with you to help you find exactly what you're looking for. Not sure which GMC SUV is best for you? That's where we come in to help guide your priorities and personality toward the SUV that's perfect for you. Read on to get a better idea of what we have in store for you.
Feast Your Eyes on our Wide Selection of GMC SUVs
We have your full-size. We have your mid-size. Looking for something a little more compact? We have that, too. With all the options, you're on your way to parking the SUV you've always wanted in your driveway. Our 2020 GMC SUV models include the Yukon, Acadia, and Terrain, with trim level options including the SLT and head-turning Denali.
What's All This Talk About the GMC Denali Trim?
Let's make it simple. If you're looking for top performance and ultimate luxury out of your SUV, you're looking for one with Denali in its name. If you go with this trim option, you're guaranteed the best of the best. This includes the most modernized technology, safety and security features you won't believe, an eye-catching grille, and overall, most fashionable design. We're talking chrome accents everywhere you look, gorgeous leather seating, and all the bells and whistles to make your ride as comfortable as possible. You'll be the envy of the highway. The best part is that you can get this first-class trim option on any of our three SUV models.
Breaking Down the Differences in the GMC SUV Lineup
Wanting to go big? Our 2020 GMC Yukon SLE and SLT options safely seat up to nine people. The Yukon Denali seats up to eight. If you're looking for something more mid-size, that would be our Acadia. It can seat up to seven. The most compact SUV is the Terrain, which will deliver you an impressive 26/30 city/highway MPG and seats up to five. The Terrain has an MSRP starting at $25,000, while the Acadia begins around $29,000, and the Yukon at approximately $50,000. Depending on your selection and the features you're craving, these costs go up, capping off at the Denali trim levels. Shop the Yukon, Acadia, and Terrain SUVs online here!
We'd Love to See You for a Test Drive
We have dealerships in Auburndale, Bartow, Chiefland, Lakeland, and Winter Haven. Please select the dealership of your choice and stop by for a visit. We can't wait to show you all your options and get you set up the SUV of your dreams. Shop our inventory online and contact us with any questions!